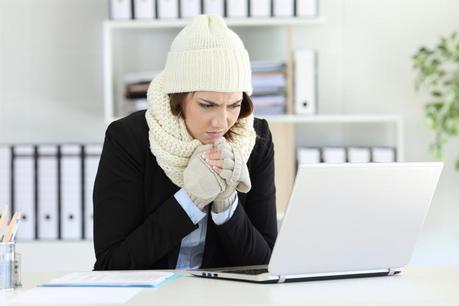 Office Insulation
If you, your coworkers or your employees are always cold at work, chances are your productivity is slipping. The temperature at your office or place of business can affect how productive you are.
Efficient HVAC systems are part of controlling the climate in your office, but thermal control is equally important. If your office, building or store doesn't have enough insulation to keep conditioned air in and outdoor air out, it won't matter how efficient your HVAC system is.
If you want to increase productivity and comfort by getting better commercial insulation in Kitchener-Waterloo, the GTA or surrounding areas, contact Reitzel Insulation. We offer both sprayed insulation and blown insulation to make sure your needs are being met.
---
HOW TEMPERATURE AFFECTS PRODUCTIVITY & HEALTH
Temperature control is necessary to keep employees comfortable and concentrate on work. When temperatures are too cold or too hot, your body has to work hard to maintain a comfortable temperature, so it's likely you'll feel sluggish and unmotivated, ultimately reducing productivity. Employee health can also be affected by workplace temperature. Cold environments tend to cause susceptibility to illness while hot environments can cause problems such as heat stress.
COMMERCIAL INSULATION CAN IMPROVE ENERGY EFFICIENCY
Without the proper insulation, your building or office is probably leaking air. The energy impact of air leakage can be significant if left alone. A complete air-barrier system will prevent unintentional leakage when combined with the right type of commercial insulation.
Reducing the air leakage of your building will help improve your energy efficiency, as less conditioned indoor air will be able to escape and less outdoor air will enter your building. This can help improve the efficiency of your HVAC system, allowing you to spend less money on energy bills.
HOW TO CHOOSE COMMERCIAL INSULATION
When choosing commercial insulation for your GTA business, it's important to take into account several factors:
Thermal performance – you want a high R-value and minimal air filtration from your commercial insulation. You should also consider how much a product will settle over time.
Acoustic control – insulation can help you create acoustically sound environments, so ask about Sound Transmission Class (STC) ratings and Noise Reduction Coefficient (NRC) ratings.
Fire protection – some insulation products are made of naturally non-combustible materials, some materials have very high ignition temperatures and other materials need chemical applications to resist fire. Consider what's most important at your facility.
Health impacts – you need to make sure your employees remain healthy. Some types of insulation are made of natural materials, while others contain substances that may cause health issues.
Sustainability – some insulation contains recycled materials, up to around 80%. If you're interested in reducing your carbon footprint, you may want to shy away from spray foam insulation which doesn't contain significant quantities of recycled content.
CALL US FOR COMMERCIAL INSULATION IN THE GTA
With proper installation of commercial insulation, your GTA business has the opportunity to reduce energy payments and increase employee productivity. Reitzel Insulation offers cellulose, fibreglass, and spray foam insulation options to match your company's needs and bottom line. Contact us today if you need commercial insulation in the GTA, Kitchener-Waterloo, Guelph, or surrounding areas.
Are you ready to see what Reitzel Insulation can do for your next insulation project? Contact us today to learn more about our services.
find out more at https://reitzel.ca