Brampton Insulation Services
Due to many weather and climate factors, you want to make sure that insulation in your Brampton home is one of your major priorities. Proper insulation is the single solution to the issues of protection and comfort! It doesn't matter if you decide upon spray foam, cellulose, or fibreglass insulation to complete your home project, as long as you call on the insulation experts at Reitzel Insulation.
Brampton is a lovely city located in Southern Ontario. Its rich history and vibrant culture make this suburban metropolis the perfect location for setting up camp. Like many cities in the GTA, Brampton offers a big city experience without having to live in the main hub of Toronto. Homeowners have the advantage of many beautiful colonial neighbourhoods, but also an equal amount of daily challenges.
A stunning home requires protection from the elements to keep its beauty intact. With winters that can dip down well-below freezing and summers that get scorching hot, life in Brampton can be a juggle of finding the perfect comfort level.
---
MOISTURE MATTERS
Changes in temperature can mean only one thing: moisture and condensation. Both of these have a tendency to wreak havoc on a household in the form of mold. Mold and mildew can build up to create serious health issues for you, your family, and any tenants you might have. Mold removal can also be a long, invasive, and costly process. Very serious mold damage can render entire walls dangerous and in need of replacement. It's not uncommon to experience a total renovation due to the proliferation of mold. All of this headache due to a little moisture? A proper insulation job will prevent moisture buildup from entering your home or building. Start at the source and don't let mold invade your space
TIME FOR AN INSULATION UPGRADE
Is that old insulation in your Brampton home failing you? We offer a number of services directed at removing your old defective insulation and providing a total upgrade. Houses leak and pests often love your old attic, as attics are the number one place often in need of insulation removal and replacement. Reitzel Insulation uses the latest insulation removal technology and techniques to literally vacuum out your old product. Then, based on your situation, we assess your needs and apply up-to-date insulation designed to provide the comfort and peace of mind you expect from insulation in the first place.
---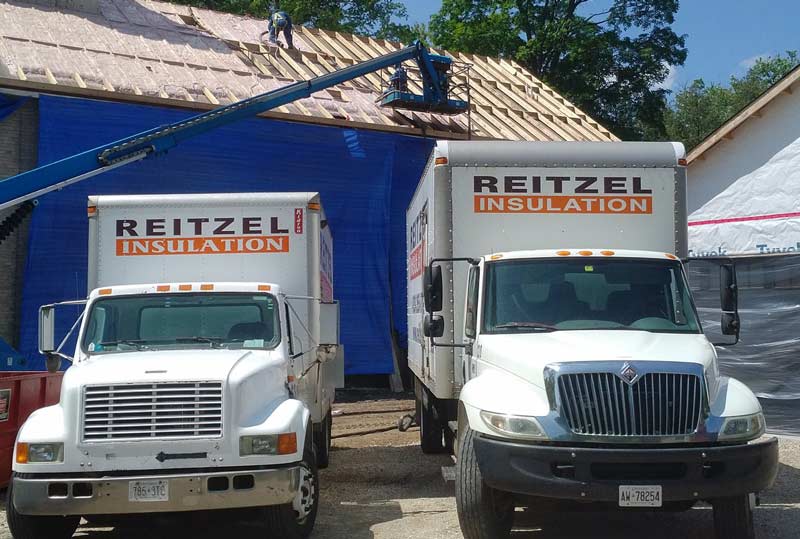 Best Insulation Contractors in Brampton
With over 45 years in the business, Reitzel Insulation offers our customers quality workmanship and professional excellence. Knowing this, finding an insulation contractor in Brampton that you can trust shouldn't be a very difficult process. Reitzel Insulation understands how important it is that your Brampton insulation project is handled professionally and done efficiently. We make it our priority to exceed our customers' expectations.
Not only do our professionally-trained workers use the latest in technology, but we also offer a 5 year workmanship warranty on all of our work to ensure that your insulation needs are met for the long-run.
---
Retizel Insulation Services in Brampton
Brampton Attic Insulation Services
When you start to notice energy loss in your home it is usually because of the attic. A great way to improve the overall energy efficiency of a home is by adding high quality insulation to the attic. At Reitzel Insulation, we are professional insulation contractors that service the Brampton Area. We have completed over 100,000 insulation projects and have a solid track record for custom service.
Insulation Costs
If you have questions about our insulation services, please contact us right away. We would love to hear from you! We do service in the Brampton area. Contact us today to receive a free estimate.